Press Sample
I was super excited about the
Memebox
, since it's a Korean beauty box! :D the name is pronounced "Me-Me" box not "meem" box. The term 'Meme' came from the name of a popular Korean doll "Mi Mi", which is the beauty idol of many little girls in Korea. "Me" is emphasised, because they wanted to put the focus on beauty being about the individual.
The box is filled with the latest Korean beauty products, shipped straight from Korea. I love that it only has Korean products, as there are so many beauty boxes out there that have western beauty products or watered down versions of asian products. I'm a huge fan of asian beauty products, and some of the very best come out of Korea.
And... oooooh it's allllll pink!!
MemeBox
There are a few different types of boxes, I have listed a few of them below:
MEMEBOX
The original Memebox comes packed with 4 - 8 full-sized products and deluxe samples.
SUPERBOX
Each Superbox series comes with it's own theme, and contains only full-sized items.
COLLABORATION BOX
Each month, we team up with style icons to curate special limited-run Superboxes featuring each collaborator's favorite items - keep an eye on these, they sell out fast!
The one I received was the MEMEBOX Scentbox #1 Rose.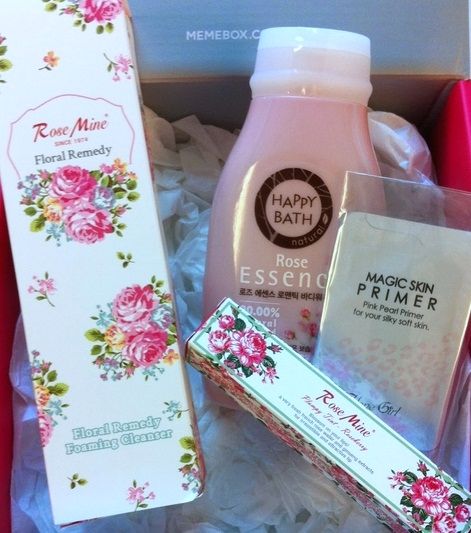 MemeBox Scentbox #1 Rose Contents
I was soooo happy to receive the Rose Scentbox!! Rose is one of my absolute favourite fragrances and all of the products have a beautiful, yet subtle scent. No pounding overwhelming scent headaches over here, girl ;) The packaging is super cute, with all of the items ending up happily displayed on my vanity. I got 3 full sized products and one sample in this box.
I tested out the Lip Tint and it gives a gorgeous flush of natural looking colour, and is hydrating and smooth on the lips. The products all look, feel and smell very high quality, exactly what I would expect from Korean beauty products.
What I really like about the Memebox is that it's not a subscription. You sign up to receive an email every month when new boxes are available for purchase and you can purchase as many or as little, or no boxes at all. It's all up to YOU (or ME :p). You can also purchase many of the products from the boxes on the website and they ship to many different countries around the world. Because the products are coming directly from Korea, here in the US it can take around 15-25 business days to get here (although mine came fairly quick), but I'm used to those kind of wait times for international shipping. I was interested to see that they have something called "US Exclusives" which includes favourite products of US customers that ship straight from the US warehouse to your door in a matter of days.
Considering the quality and value of the fullsize products I received, I definitely think the $19 - $29 (depending on which box you get) price tag is well worth it. I'm just over the moon that finally there's a Korean beauty box available!